Leak Testing for Beverage Containers
Blow molders who manufacture plastic bottles for the beverage industry need to avoid product loss at all costs. Leak testing bottles before they are filled can ensure that defective bottles never have a chance to waste product or have a negative impact on the customer's experience.
ALPS Inspection leak testers use pressure decay to test the integrity of all beverage container types, including those with more complex and stylized shapes. With the ability to test of up to 1,200 bottles per minute, BPM, and to automatically reject defective bottles, you can feel confident that your production line maintains the quality you demand at the production speed you need.
Beverage industry manufacturers rely on ALPS leak testers to test:
Juice bottles
Tea bottles
Sports drink bottles
Plastic beer bottles
Plastic wine bottles
Plastic liquor bottles
Milk bottles and jugs
And many more
Beverage Container Leak Testing
We offer a range of options for blow molders of beverage bottles. Whether you need our fastest model, or a slower model for larger containers, we have a solution for you. Consult the information below to determine which model best suits your needs.
Inspection Insights Blog
A collection of insightful content written by the leak detection experts at ALPS Inspection. The collection includes practical tips, best practices, and how to's on leak detection and package integrity.
Leak Detection Fundamentals
Read through our Leak Detection Fundamentals collection to learn about the best method and machines for leak testing your container type.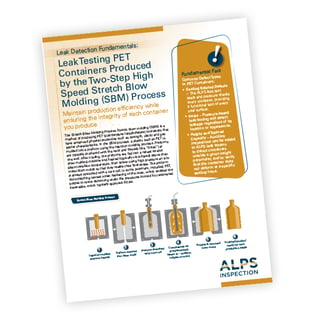 Leak Testing PET Containers Produced by the Two-Step High Speed Stretch Blow Molding Process
View This Page