Educational Guide: How to Select the Right Leak Inspection System to Fit Seamlessly Into Your Production Process
Introduction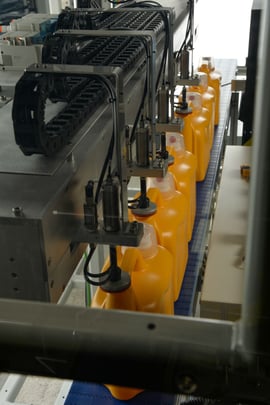 There are many considerations to address when it comes to selecting the right leak detection equipment for your business. This guide is going to provide you with all the relevant questions you will need to answer to empower you to determine which piece of equipment is exactly right for you. Contact Us to speak with an ALPS rep.
We do not want you to overpay for equipment and features you do not need. At the same time, we do not want you to underpay for equipment to cut corners, because you did not recognize the true value of specific options. This can result in unnecessary, completely avoidable issues for your production process.
There are several details about the production process that affect the speed & quality of your production process that we will address in this guide.
For instance, did you know…
Container volume, shape, and rate affect hole size sensitivity?
How the leak tester integrates into your production line, how you want to handle downstream jams, and how containers are presented by the upstream equipment, can all affect the efficiency of the overall line?
Certain bottle shapes prone to tipping or backup concerns, might be better suited with a continuous motion solution?
Did you know that ALPS also has vision inspection solutions that can be integrated into the leak detection platform to save you valuable floorspace?
Ultimately, walking through this guide will help lead you to determine which type of equipment and accessory options make the most sense for your operation.
Your Production Efficiency Does Not Depend On a Single Machine
While it may seem like there are only a few details that a leak detection equipment specialist would need to know in order to provide you an accurate quote for new equipment, there are a number of different aspects throughout your process that contribute to providing the best solution to create the most efficient production line.

The Importance of Line Integration
Your entire production line must work seamlessly together. Certain platforms work better together than others. Regardless of your speed, quality, and production requirements, we have the right equipment and options to create the smoothest production line.
Consider these factors, and for guaranteed success, now and in the future, partner with a company that manufactures multiple solutions that can be tailored for your applications and are supported by a service team that is available 24/7.
ALPS Inspection helps guide you through each aspect of your production process to ensure that it is as fast, flexible, and quality-conscious as it could possibly be.
The following modules are the critical pieces of information that we will review together to ensure you are purchasing the equipment that optimizes your process.
How to Select a Leak Detection System: Where to Begin Your Journey
You are probably here because you are building a new line or changing an existing one. You are getting ready to make a big investment and we do not want you to make a mistake in your decision.
Here Are How Your Container Details Affect Your Leak Inspection Equipment
This is your line building checklist. There are 5 basic questions that will set you down the right path to getting the equipment you need to ensure quality without jeopardizing your production speed.
Bottle drawings to clarify size, shape, and any unique details. Oversized bottles and uniquely shaped bottles, for instance, sometimes require a specific machine or options to ensure quality and speed throughout your production process.

Trying to cut corners with the wrong equipment can result in handling issues on the line, or over-rejection of good containers, un-necessarily increasing the scrap rate of the line.


Hole size specifications to ensure quality without jeopardizing speed. How fast do you need it to go? This depends on hole size – here is why:

Hole size sensitivity is directly proportionate to the test time, and the volume or bottle size it is testing. To increase sensitivity, we have different platforms which allow us to increase the test time, by using more heads, or other features like a vacuum conveyor, or spacing wheels to extend the time available for the test.

How Fast Will a Leak Detector Run




Your max-rate of production to ensure leak inspection does not slow you down. We provide inspection machines that can test as fast as your production process. But unless you are producing 1,000 or more bottles per minute, you may not need the fastest machine in our lineup.

Your production rate is going to help tell us which platform(s) will fit your needs. We typically add 10% to your production rate to ensure that the leak tester will not be the bottleneck on the line, without being oversized.


Will different bottle-types run on the same line? If so, how many? If your production line is dedicated to the same bottle all the time, you need not worry about options to support faster changeovers, like fully automated rails, spin-off probe heads, hand crank or motorized conveyor heights, and tool-less change parts.

On the other hand, if you have a variety of different bottles running on the same line, these options can be of great value. As talent and labor are becoming harder to find and maintain, we understand how automated or simplified manual change-over features can help your team support many different applications on one machine.


Align leak inspection solution to your blow molding and downstream equipment to ensure a seamless production line. You are dealing with a limited amount of space, several different equipment types, and varying production requirements. How is all of this going to work together in a seamless fashion?

A good starting point is to understand what machines are currently in your production line. What blow mold processes, or manufacturer/model blow molder is anchoring this line? How is the line configured?

This indicates which ALPS Inspection equipment will best integrate with your existing machines and processes.
• For instance, if you are running a high-speed two-step PET process, we will likely start our analysis with our NGR platform. Then we can determine how many heads you will need.
• If you are running a one-step PET process, that is a good fit for our SC Linear, RS Linear, FlexPitch, or Speed-Glider platforms.


• Do you have an EBM process? An SC Linear SC-XL Linear or RS Linear might be right for you.


• Are you utilizing an injection blow molding (IBM) production process? We have solutions for that, too. ALPS offers a take-out conveyor section that is mounted on a common frame with the leak detector to make for easy conveyor height adjustments between bottle changeovers.
How Much Space Is Required to Integrate Leak Detection Into My Line
Managing Production Process Issues Before They Arise
We'll Start With Bottle Handling
What shape is your bottle? Many round, stable containers are easy to handle, moving over conveyor transfers without issue.

Some container designs present handling challenges: Reverse taper containers cannot be backlogged without the risk of tipping over. Tall, skinny containers must have a backlog to minimize the risk of tipping over with a transfer dead plate. Small, lightweight containers may stick to rails with a build-up of static, and require special photo eye reject mechanism designs to ensure they sense and contact the container at the appropriate height, and only reject the specific container, and not adjacent ones.

Square or rectangular containers may not have much separation for a timing screw to pick up properly. Use of a bottle jog is recommended for these containers.

To read more about container designs and quality, check out our blog, Container Design is Changing: How Can You Stay Creative While Ensuring Consistent Quality?


What kind of conveyor do you have? Leak testing on the line conveyor requires the containers to be stable under the test head, or the results may be negatively affected.

For stability, a vacuum conveyor is usually recommended, especially through the leak tester.

Some containers would be best tested on a leak tester with an indexing conveyor or leak tester that uses change parts tooling to control and stabilize the containers.


What else is on the line? Molder takeouts or other equipment on the line such as trimmers or flamers may require minimum conveyor speeds to operate properly.

Leak testers with change parts tooling can better control the flow of the containers, should the line need to run at higher speeds.

Moving head leak testers detect the smallest holes when the conveyor runs as slow as the production rate allows, as that provides the longest time for the test.
Next, Let's Talk About Line Integration
Will the leak tester be moved between lines? While it's always recommended to have a leak tester dedicated to each line, sometimes it makes sense to move a leak tester between lines. Machine designs and options that allow a leak tester to be easily installed on an existing conveyor and moved without additional equipment make this a simple exercise.


Where will the leak tester be installed on the line? Hand fed leak testers may benefit from having a longer integrated conveyor.

If the leak tester is the last piece of equipment on the line, options like a counter/diverter may make sense for a tumble pack operation.

Higher speed lines should have a longer, straight run into the leak tester to allow for better handling and accumulation into the leak tester.


How is container flow managed? Line backups can occur for many reasons, but it is important that the leak tester reacts to the backup properly, and the line has the space for the containers to accumulate.

In the case of a downstream jam, indexing conveyor leak testers, or testers with change parts tooling can use a photo eye to detect the backup and pause to stop sending containers until the backup is cleared. Moving head leak testers must use an air jet blowoff or other mechanism to remove containers from the line or send a signal to the conveyor control to stop until the jam is cleared.

Leak testers with change parts tooling require a backlog to ensure the containers feed into the timing screw properly, so speed control photo eye options are needed to maintain the proper backlog.

In the case of power or air loss, options such as a diverter gate or brake system should be considered when the line conveyor could move untested containers through exit of the leak tester.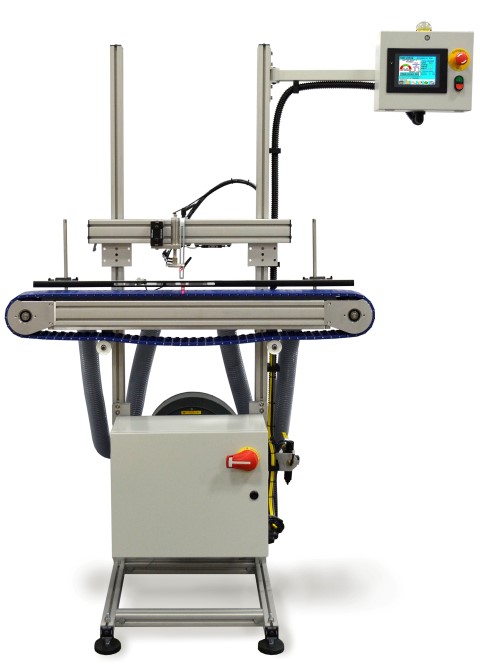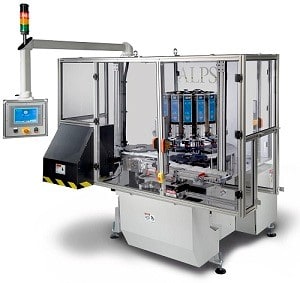 ALPS platforms and their options address these handling and integration challenges:
Our SC Linear can test a wide range of stable containers at lower speeds. It includes an indexing conveyor with optional vacuum, several lengths and width combinations, and supports inline transfers over a deadplate, or side transfers without the need for a deadplate.
Our RS Linear uses a single moving head to test a range of hard-to-handle containers at lower speeds on the line conveyor. The small bottle option includes a thru-rail reject and smaller sensors which can be adjusted to be very close to the conveyor to effectively sense, and reject very small bottles.
Our FlexPitch® uses multiple independent test heads that move with the containers on the conveyor, for testing a range of hard to handle containers at higher speeds.
Our Speed-Glider uses change parts tooling (timing screw) to control and test a group of containers at once on the line conveyor at speeds up to 500 bottles per minute, BPM.
Our NexGen Rotary (NGR) uses 4 to 30 heads on a rotary platform to test at high speeds or detect small holes
ALPS change parts tooling designs are customized to the container dimensions and can include a bottle jog or rail tooling to ensure proper handling and repeatable setups.
To learn more about which leak detection platform is right for your application, check out our blog,
What type of leak inspection system is right for my application?
If You Have Different Bottles Being Manufactured On the Same Production Line, Consider Your Changeover Strategy
Let us think about how to minimize changeover time and complexity if you are running multiple bottle types on the same line.
How many different bottles you will have on the same production line at any given point is the starting point of your changeover strategy. ALPS equipment is designed with efficiency and effectiveness in mind, to help your team maximize your production schedule.
Creating Simple Changeovers
In the past, changeovers could often involve some technical work between production runs. It takes time to train your personnel to do these changeovers reliably and consistently. With that in mind, ease-of-use equipment is essential. ALPS equipment utilizes an intuitive full-color user interface with self-guided set-ups that lower both the total cost of ownership and frustration on the floor.
Fast Changeovers
For those with a lot of different bottle-types on a single production line, we have created multiple ways to protect the quality of each bottle run, despite the frequent adjustments.
Depending on your production variances, and your personnel knowledge and training, automating your changeover process is one way to gain a competitive advantage of flexibility.
Recipe Savings
All our equipment allows for the software to store the bottle recipes for easy software change overs.
Automatic-Adjusting Guide Rails, Conveyor Heights, Head Heights
Certain ALPS models have available automatically adjusting guide rails, probe elevations, and conveyor heights, saved to the recipe, to automatically adjust during a changeover.
Electronic Regulators
Certain ALPS models (NGR, FlexPitch, Speed-Glider) have available Electronic regulators for the fill and probe pressures, which are saved to the recipes to automatically adjust during a changeover.
Hand Crank Head or Conveyor Height
Certain ALPS models (SC Linear, FlexPitch, Speed Glider) have available hand crank probe and conveyor elevation adjustments for easy, repeatable adjustment.
Electric Conveyor Height
Certain ALPS models (SST Linear platform) include power legs for conveyor elevation adjustments at the touch of a button. Optional scales with indicator are available to provide repeatable positioning.
Quick-Release, Tool-Less Tooling
For our NexGen Rotary models, we have designed all the tooling to be tool-less, using quicklock nobs, hand cranks, and locating pins to ensure proper position, and quick changeover can be completed within 10-15 minutes.
Determining Which Additional Features and Options Will Improve Your Production Process
Conveyors
Good line integration matches the conveyor speed to the leak tester requirements. Existing conveyor runs may benefit from being split into several sections for proper speed control.
Extending an existing line for leak testing may require an additional section of conveyor.
Air conveyor lines require transfer to a tabletop conveyor for leak testing and back again.
ALPS offers conveyor sections in several configurations to address your need for a conveyor section matched to the leak tester. All conveyors come with VFD controls linked to the leak tester and are available in several lengths and widths in non-vacuum, standard vacuum or high flow vacuum designs to ensure proper container control.
Additional Equipment Options
Other options for ease of use, error checking, better handling or improved line integration are worth considering on a leak tester such as:
Dual level rails to control taller or tippy containers
Reject verification system to ensure that a defective container is actually removed from the conveyor and sent into the reject chute
Down bottle detection and ejection options
Tooling carts to safely store and organize change parts tooling
Bottle counter diverter to perform a simple tumble pack at the end of the leak tester.
In addition to detecting holes in your containers, additional inspections or options may be useful for controlling the quality of the product leaving the production line.
These may include:
For smaller gate leaks in a PET container, the ALPS patented turntable vacuum option will detectable much smaller holes in the base of containers with a design that will seal to the turntable.
Choke neck probes can detect obstructions in the neck of a container (common on some EBM processes).
Container height or top load inspections can detect short or tall containers or containers that may deform under load.
Short shots on an injected finish, or bad trims can be detected with different seal durometers and adjustable probe pressures.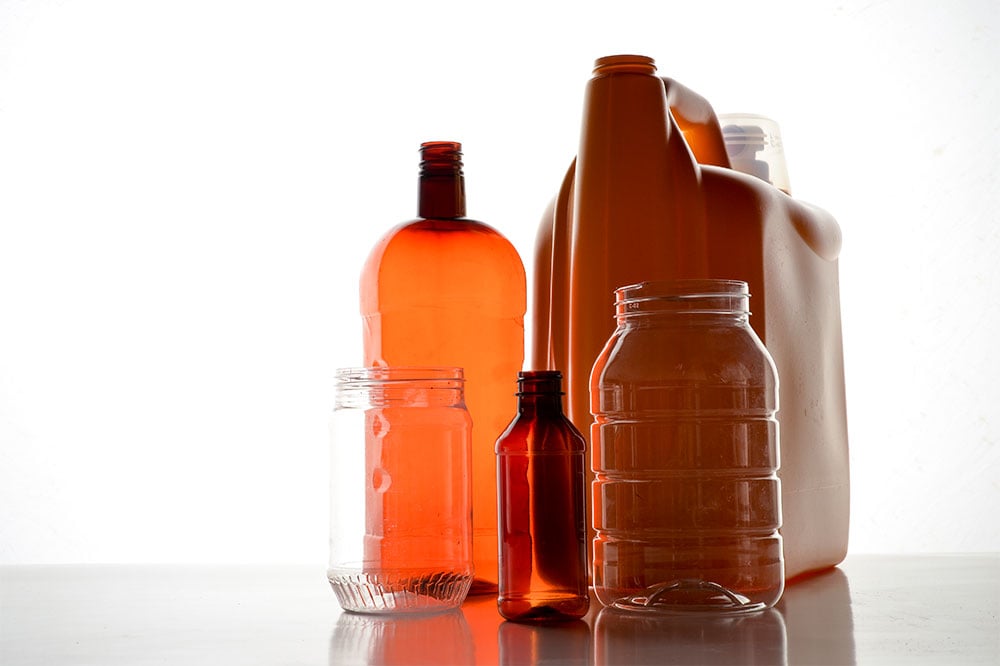 Your Production Rate Doesn't Just Depend On Your Machines Alone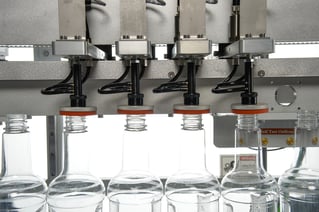 We understand that your entire production line must work together seamlessly to meet the growing demands of your customers.
Our goal is to provide you with the all the considerations that exist to create the most effective production lines.
We do not want you to overpay for equipment and features you do not need. At the same time, we do not want you to underpay for equipment to cut corners, because you did not recognize the true value of specific options. This can result in unnecessary, completely avoidable issues for your production process.
Our job is not simply to provide you with leak detection equipment.
Our promise to you is to implement a holistic solution that removes the barriers in your production process, with the highest quality equipment available, the greatest service support team in the industry, from the most experienced team on your side.
Inspection Insights Blog
A collection of insightful content written by the leak detection experts at ALPS Inspection. The collection includes practical tips, best practices, and how to's on leak detection and package integrity.
Leak Detection Fundamentals
Read through our Leak Detection Fundamentals collection to learn about the best method and machines for leak testing your container type.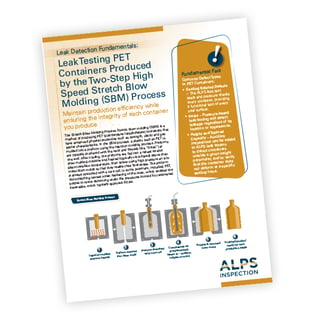 Leak Testing PET Containers Produced by the Two-Step High Speed Stretch Blow Molding Process
View This Page

Please fill out a  form confirming your product details and plastic bottle leak detector requirements.