Integrated Leak Testers
Integrated leak testers are custom designed to be integrated into existing equipment and provide an alternative to purchasing and installing a full leak test system into their line. They are used to test empty and filled containers of various sizes such as pharmaceutical vials, beverage bottles, food packaging, automotive oil bottles, and much more.
Leak detection machines are available in rotary leak testing and linear leak testing configuration and use one of two methods for testing empty and filled containers:
Pressure Decay Leak Testing: This is the primary testing method for empty bottles and containers and involves extending a probe into a container to create a leak-tight seal on the opening. The container is then filled to a specific pressure; if the target pressure range is not achieved, the container fails the test. Pressure decay leak testers can also be used to test seal integrity and the integrity of filled and sealed containers.
Vacuum Decay Leak Testing: The vacuum decay leak testing method is non-destructive and used for sealed containers and packages for food, beverage, and pharmaceutical applications. This method involved drawing a vacuum on containers or packages within a test chamber. Vacuum levels are monitored for decay, which indicates the presence of a leak. Vacuum decay leak testers are only available through our sister company, Bonfiglioni Engineering.
Contact us to discuss options for customized integrated leak testers.
Our Customized Leak Detection Machines Integrate into Your Existing Equipment
ALPS Inspection provides custom units designed for leak test integration within other equipment. Our integrated leak testers are built to our customers' unique specifications and engineered for compatibility with their existing equipment.
These custom units help customers save time and money and can be integrated with equipment such as:
Blow molding machines
Bottle converters
Trimmers
Labelers
Assembly machines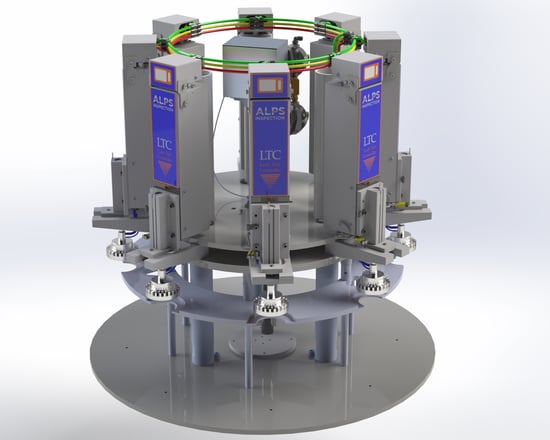 Versatile Leak Tester Integration Solutions
We offer a full line of integrated leak testers, making it easy to find the right device for your needs. Our family of leak test integration solutions includes:
Omron Test Controller Leak Test Stations: Omron Test Controller, OTC-1, leak inspection test circuits may be designed to integrate within other equipment that performs container handling including presentation to leak tester probe(s).
MLT Trimmer Mount Leak Testers: Designed to inspect containers presented horizontally on an indexing conveyor; commonly mounted on inline impact trimmers. Available in 1, 2, 3 and 4 station configurations.
NexGen Rotary Turrets for Monoblock Applications: Integrate with inspection systems for empty or filled containers, including high-speed rotary machines capable of rates up to 72,000 containers-per-hour.
Request a quote on the integrated leak testing unit you need, or contact ALPS for more information.
Reliable Leak Test Integration through OEM Partnerships
ALPS specializes in the design and manufacture of state-of-the-art leak detection machines for plastic containers of all types. We have established partnerships with numerous industry OEMs to ensure reliable leak test integration between our equipment and theirs.
If you produce or otherwise work with plastic bottles and/or other plastic containers, chances are good you use equipment manufactured by one of our OEM partners. If you do, you will have no problem installing one of our integrated leak testers into your system. Even if you do not, our devices are still remarkably easy to install and use and should present no significant obstacles for full leak test integration.