QuickCheck Leak Testing System
The ALPS Inspection QuickCheck single-head leak testing system is an excellent general-purpose, cost-effective empty container leak tester with a wide range of capabilities.
With updated technology and an easy-to-navigate touchscreen, the QuickCheck can quickly integrate into your existing production line and is specifically designed to make changeovers fast and simple.
The QuickCheck leak testing system is a flexible, cost-effective solution for high-speed, integrated leak testing on a single test station.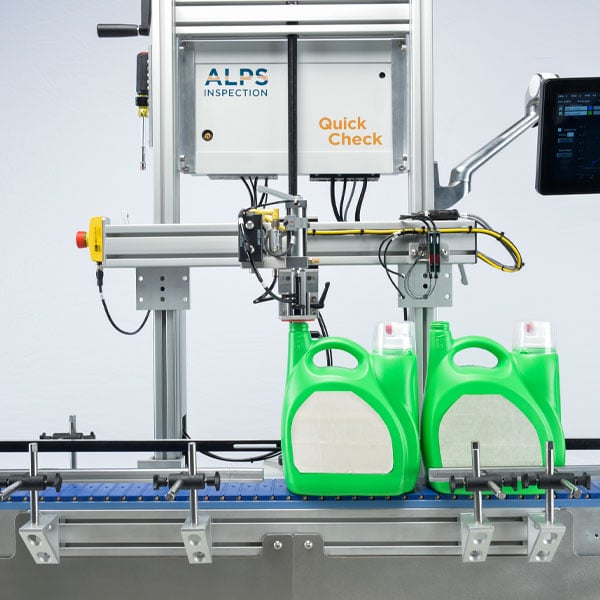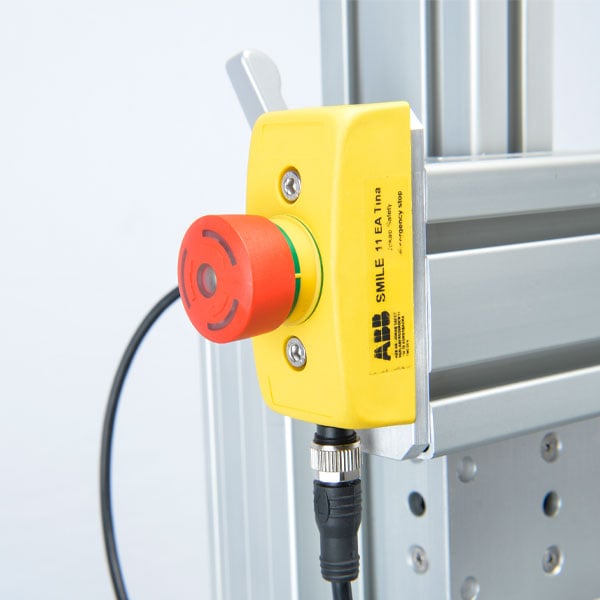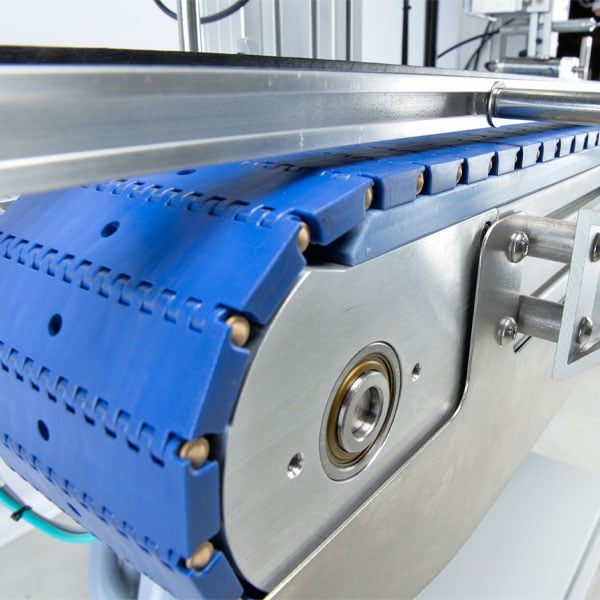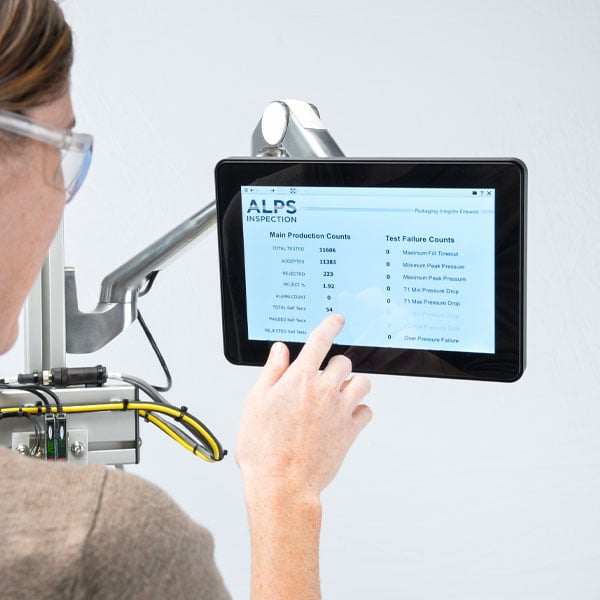 QuickCheck Leak Testing System
The QuickCheck linear leak testing system is a fast and versatile plastic container leak tester. The machine's speed and sensitivity capabilities depend on the container size and volume. It can accommodate containers in a wide variety of sizes, from small pharmaceutical bottles to large containers such as 5-gallon water bottles, F-style industrial containers, Jerrycans, edible oil containers, and buckets.
Typical leak inspection speeds range from 2 to 30 bottles-per-minute (BPM) for larger containers (e.g. 4 to 5L), to 60 to 100 BPM for single-serve containers (e.g. 0.5L), and as high as 180 to 200 BPM for the very smallest pharmaceutical bottles (e.g. 10 to 40mL).
Our QuickCheck linear bottle leak tester uses a 4.5" (114mm) wide and 3.5' (1067mm) long conveyor, with conveyor rails adjustable up to 8" (203mm). We also offer existing conveyor designs in various lengths and widths to suit different container sizes and line layout requirements.
The QuickCheck conveyor design brings the conveyor to the edge of the conveyor frame, so side transfers can typically be performed without the need for deadplates. However, deadplates are available as an option if your specific line layout benefits from end transfers. Contact us with your conveyor specifications.
User-Friendly Controls
The QuickCheck linear leak tester is a reliable and user-friendly leak testing system. Utilizing state-of-the-art technology, its new and optimized color HMI delivers data reporting and graphing capabilities and an easy-to-navigate touch screen that displays common functions, parameters, and testing results. Its expanded connectivity also allows for extended remote support and data reporting.
Other attributes of the QuickCheck include:
"Guided setup" software feature provides step-by-step instructions to show a novice operator how to set up a brand new bottle, including all mechanical steps and setup of the leak test and reject limits.
Fast and simple installation allows the detector to be easily moved and reinstalled on different lines, providing complete control and flexibility.
Quick container changeover for faster, more efficient production and testing times.
High-speed, integrated leak tester that performs pressure decay tests to detect and reject faulty containers, minimizing user intervention and protecting valuable inventory.
Throughout the lifespan of your equipment, the ALPS Inspection QuickCheck leak tester is backed by industry-leading service engineering and support. You can rest easy knowing your production line will always run smoothly with our 24-hour technical phone support and spare parts inventory.
High Speed, Fully Automated Container Leak Testing
The leak detector conveyor runs continuously between tests. When the test photo-eye senses the presence of a container, the conveyor is immediately stopped, a probe extends to form a tight seal, and the container is tested for leakage using  pressure decay  testing.
If the container is bad, it is rejected from the bottle leak tester machine immediately after the test, and the conveyor restarts. If the container is good, the bottle leak detector conveyor restarts automatically when the test is complete.
Features of the QuickCheck Leak Tester Include:
In addition to its intuitive, user-friendly capabilities and increased speed and efficiency, the QuickCheck leak tester offers a range of features and benefits, including:
Cost-effective, dependable machine that exceeds leak-testing requirements
Flexibility to test a range of container sizes
Ability to quickly adjust rails, conveyer heights, and probe heights
Updated components allowing for simple replacement and troubleshooting
Recipe-based setup
Easy and fully automated changeovers
Fiber optic photo-eye with one-touch setup
Automated 'self-test' function for reliable machine validation
Improved HMI with easier navigation, improved reporting and data sharing
Full-color touchscreen operation with simple to use, icon-based interface
Easy integration, conveyor design, and small footprint
Various conveyor sizes available to match container specs and line layout
Available add-on features include:



Reject verification option
Available choked neck probe option
Container height check options
Vacuum conveyor option
Integrated down container reject option
Counter diverter option for tumble pack efficiencies



24-hour service support
QuickCheck Leak Testing Applications
Common applications for the QuickCheck leak tester include the following blow molding processes:
Intermittent Extrusion Blow Molded (EBM Shuttle) bottles