At ALPS Inspection, we're often asked a simple question: "How much does your inspection equipment cost?"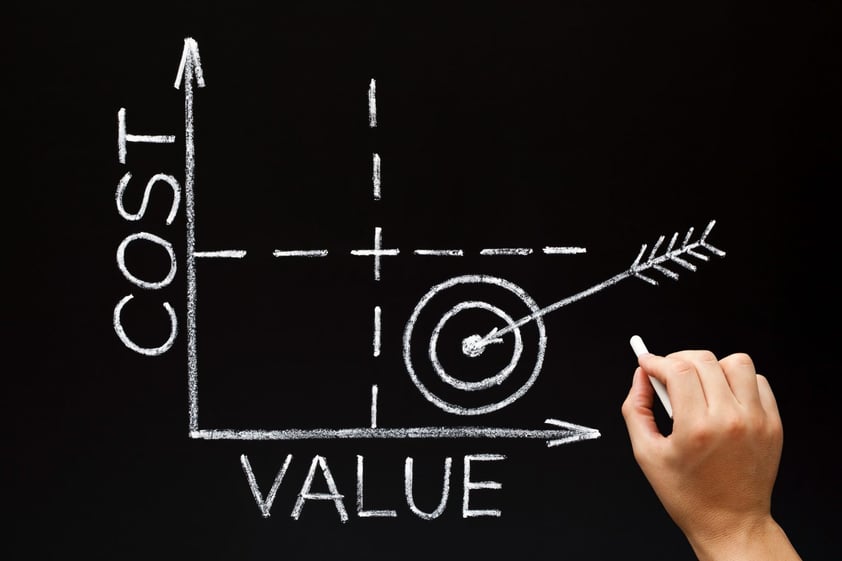 It should come as no surprise that the answer depends on a variety of factors. Factors including, the shape and size of the bottles, production rate, specified hole-size sensitivity, and type of resin the bottles are formed from all affect the cost of leak testing.
(And depending on some of the specific attributes of your manufacturing process, ALPS Inspection offers a variety of additional options that allow your production process to maintain the quality without jeopardizing your speed).
With that stated, we know that your budget is fixed. At ALPS, we ensure that your investment in our equipment is seen as such, and not just as a cost.
Cost of Empty Container Leak Inspection Equipment
Leak detection equipment is often viewed as a cost that comes at the slowing down of your production processes. But, this is simply not true. ALPS Inspection equipment can remove a variety of barriers in your production process. As a result, this increases quality by minimizing your false positives and negatives. All without negatively affecting production speed.
The Cost of ALPS Inspection Equipment – How Much Will I Pay?
Wondering how much you'll pay for ALPS Inspection equipment? While we can't give you a precise answer without a consultation, here are a few factors that will influence the cost of your investment.
Models, features, and accessories – We have a wide variety of linear leak testers, rotary leak testers, and integrated leak testers. Any one of our machines may be right for your needs, depending on your products and production processes.
Production volume and types of production runs – Larger bottle production volume means that you may need multiple machines to keep up with the volume being produced. Additionally, multiple types of product runs may require additional changeovers and tooling, which adds to expenses.
Desired level of automation – We offer machines recipe-saving programs, and completely automated changeovers with tool-less changeovers. Depending on your production methods, this equipment may be a good choice for your environment.
Floor plan space/production setup – The size, layout, and space of your production facility affects how much conveyor work is required to transition between equipment. All while minimizing manual labor during the production process.
All of these factors can affect the cost of your equipment from ALPS Inspection. They must be considered when pricing your investment in the new leak testing equipment you need.
Consider the Lifetime Value of Your Leak Testing Equipment and How It Will Help You Save
So, is it really worth investing in leak inspection equipment when overhauling your production processes? The answer is "yes." The value that your testing equipment will provide over its lifetime exceeds its cost dramatically. Here are a few ways that you can benefit and save money with ALPS testing equipment.
Not having the right equipment can be costly – Using risky methods of improving production, including speeding up machines, adjusting resin formulations, light weighting, or risking it without testing can result in serious production quality issues. This will alienate your customers. In addition, false negatives/positives can also ruin deadlines and margins. It is also harder to manage quality control due to the increasing usage of Post-Consumer Recycled (PCR) resin, so having the proper leak testing equipment is essential.
Avoid jeopardizing client relationships – Quality control issues can destroy your existing client relationships. As a result, clients will immediately begin looking for a new supplier to provide them with the products they need. Inconsistent quality due to lacking the right equipment can also cause you to lose potential new business opportunities.
Improve both speed and quality in your manufacturing processes – ALPS products can keep pace with your blow molders, which are typically the limiting factor in the speed of your production process. In addition, features like automated changeovers, saved recipes, and quick-release tooling minimize production downtime.

You'll also be able to speed up the on-boarding process for clients that require the use of leak detection equipment during production, which is becoming increasingly common with the rise of PCR use.
Investing in leak testing equipment from ALPS is a great choice for your business. If you need reliable, fast, and efficient leak testing equipment to ensure your products are meeting the highest quality standards, we're here to help.
Contact Us for a Personalized Consultation and Quote for Your Facility
The cost of ALPS Inspection leak detection equipment depends on a wide variety of factors. If you're considering investing in our products, don't wait. Contact us to schedule a consultation and get a quote or give us a call at 877-969-2713 to get started.