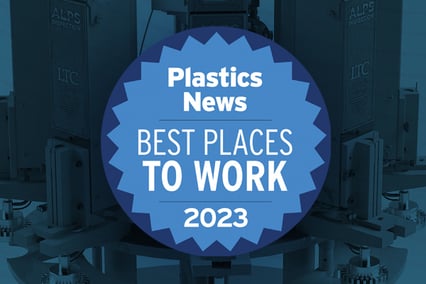 ALPS Inspection is proud to be named Plastics News' Best Places To Work 2023 Winner. This is the third consecutive year ALPS Inspection has been honored with this award.
"Winning this award three years in a row is a testament to the strength of the ALPS teams and our defined core values," said Jill Shearer, General Manager of ALPS Inspection. "One of those values is our "Answering The Call" philosophy, meaning we count on each other so that customers can count on us. I believe the best place to work is an environment where everyone feels supported, trusted, and appreciated."
Plastics News Magazine partners with Best Companies Group, a research firm that assists in the implementation of Best Places to Work programs for industries worldwide. Input from employees and management is collected as part of the application process. Employee feedback accounts for approximately 75 percent of the company's score, while management responses make up 25 percent. Firms are assessed in areas such as leadership and planning, communication, corporate culture, work environment, training, development, compensation, and benefits.
Employee feedback has always and will continue to contribute to ALPS Inspection's short and long-term market growth plans, and employees are attributing their overall satisfaction to the transparency and trust from management.
"I've worked for very few leaders like Jill," said Andrew Steiner, Product Manager at ALPS Inspection. "She excels at bringing that personal touch to her interactions with everyone at ALPS and our customers."
Employee commemoratory and workplace environment is a key contributing factor.
"There isn't a single person at ALPS I don't want to work with, which is extremely rare in my experience at previous companies," Steiner said. "I enjoy being around my teammates, and the group we have makes ALPS such a great place to work."
ALPS Inspection is an industry-leading supplier of in-line, non-destructive leak testing equipment. The company was founded in 1974 as Air Logic Power Systems, ALPS Inspection, and manufactured its first leak tester in 1978.
Using innovative technology, the company would continue to grow into the rigid empty plastic container leak testing markets, providing trusted leak testing solutions for containers and packages for the food and beverage, health care, automotive, personal care, and packaging industries.
In 2000, ALPS joined the TASI Group of companies. This partnership has allowed ALPS to join a select group of other leak detection companies and widen our expertise in the packaging integrity industry.
ALPS is headquartered with manufacturing operations in Harrison, Ohio and remote employee locations across several states.
For more information about ALPS Inspection, the TASI Group, and employment opportunities, visit www.alpsleak.com/careers.