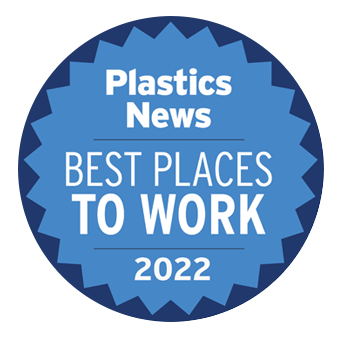 ALPS Inspection has been named one of the 2022 Best Places to Work by the industry publication, Plastics News. This is the second straight year we have received this award.
"It's exciting to again be recognized as one of the best places to work in the plastics industry," said Engineering Manager, Chris Howard. "We strive to have an open and collaborative workplace and it's humbling to know that the honest feedback our team members provided contributed significantly to this recognition."
Plastics News partners with Best Companies Group, a research firm that assists in the implementation of Best Places to Work programs for industries worldwide. Input from employees and management is collected as part of the application process. Feedback from employees accounts for approximately 75 percent of the company's score while management responses make up 25 percent. Firms are assessed in areas such as leadership and planning, communication, corporate culture, work environment, training, development, compensation and benefits.
"Our team members are the secret to our success and everyone has vital roles to play in the company," Howard said. "We work together and look at challenges from different points of view to keep our workforce strong and give our customers the best products and service in the industry."
Why Does this Award Matter to Customers?
This award highlights how ALPS team members value the culture and processes we put into practice every day. We're proud of the extremely low rates of employee turnover we experience, which has enabled us to sidestep problems surrounding the nationwide labor shortage. This is beneficial for our customers because they are less likely to experience delays with their orders.
Additionally, our size gives us a unique agility, allowing us to respond to our customer's needs more quickly than competitors in the industry.
"Our team pulled together and navigated the many unforeseen challenges and roadblocks over the past two years with so much determination," said ALPS General Manager Jill Shearer. "Our customers didn't slow down and we met that demand while renewing our commitment to the safety and wellbeing of everyone in the organization."
The strong relationships and trust ALPS has built over time with our customers, helped us keep business moving forward amidst the challenges the pandemic presented.
With team members working from home and located in two states, we increased our focus on communication across the organization. This was a key part of successfully taking care of our customers when we couldn't meet and collaborate in-person.
"ALPS is proud of its diverse set of employee talents, experiences and how we prioritize a spirit of collaboration," continued Shearer. "This award shows that as an organization, we all value the same ideals and goals, and this carries over to how we work everyday with our customers."
When we work together and tap into our different points of view, it allows the ALPS organization to be successful. Our employees working together elevate ALPS, but our customers are at the heart of everything we do.
Learn more now about ALPS and the services we provide our valued customers.