Training Course For Optimal Operations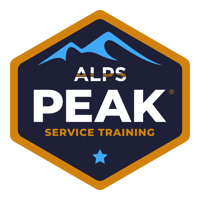 Empower your team with service-based knowledge and expertise to ensure peak performance of your empty container inspection equipment. Guarantee quality with every product when you become a certified ALPS Peak Service Training™ professional. This exclusive training at your plant provides your employees with a full range of ALPS Inspection machine knowledge.

Why Register for ALPS Peak Service Training™?
Become the on-site experts and help reduce the need to contact an ALPS Technician
Reduce downtime and maximize productivity
Troubleshoot common faults
Increase the lifetime of your machines
Empower all (existing and new) shift employees with in-depth ALPS insight
Prevent the end-user from receiving random, defective containers
Protect you and your customers' brand reputation
What To Expect
Register up to ten (10) employees per 1-day session (option to register for multiple days)
Length is approximately eight (8) hours for a 1-day session
The agenda consists of classroom and hands-on education
Training applies to both operator and maintenance employees
Wireless headsets will be provided for optimal group communication
Certification is valid for 3 years
ALPS Peak Service Training™ Agenda
Classroom Training
Maintenance and Operations
ALPS Inspection History
Your Machine(s) Application
Container Leak Testing 101
Basic Controls
Hands-On Training
Morning: Maintenance and Operations
Operating Your Machine
Navigating the HMI (Human Machine Interface)
Controls Overview
Setup Issues and Changeovers
Maximizing Container Rates
Afternoon: Maintenance
Preventative Maintenance
Troubleshooting Common Production Issues
Support and empower your employees with ALPS on-site service training. Register today to become the on-site experts.*
*Must be an ALPS Inspection customer to receive service training. Fill out the form and a team member will contact you to schedule a training date and discuss pricing (dates may vary from your preferred date(s)).
Download a copy of the ALPS Peak Service Training™ Brochure Here